Plugin to Check For High Memory Usage (current memory usage), WordPress Memory Limit and include result in the Site Health Page and Give Suggestions how to improve it.The Premium version allows you to increase the Server Php Memory ("Memory Limit") and WordPress Memory Limit, both without editing any file. The plugin can show you also the total server RAM (Random Access Memory), your physical memory installed.
With the new Memory Wizard (Premium), you can configure your memory quickly just following 3 steps. No files to edit at server or WordPress.
Multilingual ready: English, Italian, Portuguese and Spanish files included.
WordPress Plugins are composed of  scripts that extend the functionality of WordPress.
The installation of this plugin is similar to all the other WordPress plugins.
You can find more plugin's info in this link.
Installing the "WP Memory" can be done:
a) Through Wordpress Dashboard
    By searching for "WPMemory" via the "Plugins > Add New" screen in your WordPress dashboard;
b) Or
Download the plugin
Log into your WordPress Admin area
and Upload the ZIP file through the 'Plugins > Add New > Upload' screen in your WordPress dashboard.


or
 
c) By FTP
Extract the zip file and just drop the contents in the wp-content/plugins/ directory of your WordPress installation.


Then activate the Plugin from Plugins page.
Look below for instructions about How to Install and activate Premium Version.
If you're receiving the "Fatal error: Allowed memory size of xxx bytes exhausted" message, start by uninstalling as many plugins as possible. Then, follow the steps in the WPmemory plugin wizard (premium feature) to increase your WordPress and PHP memory.
Once you've successfully increased the memory, you can begin reactivating the plugins you had previously disabled.
To manage the plugin, go to your dashboard and click TOOLS => WP Memory to open the dashboard and settings page.
With the new Memory Wizard, you can configure your memory quickly just following 3 steps. No files to edit at server or WordPress.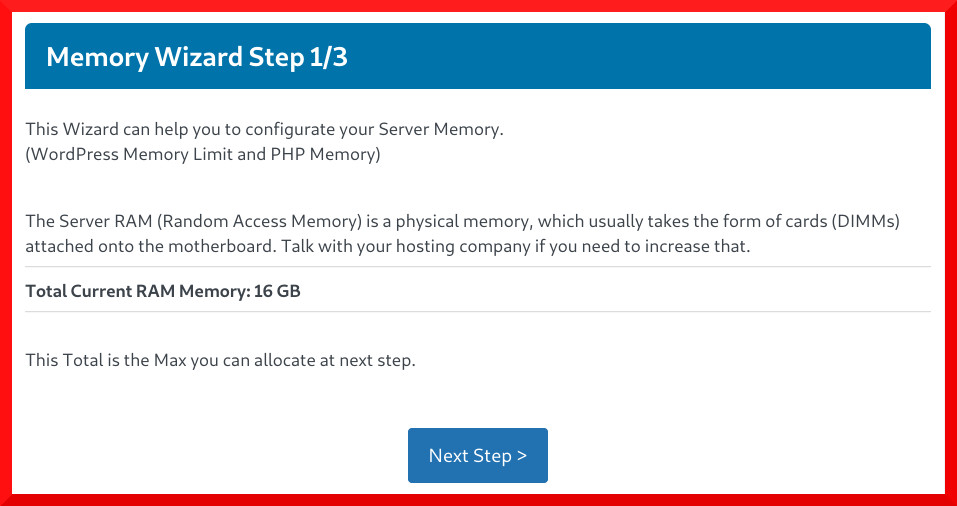 We have a language file ready to you translate this plugin for your language.
If you got message about fail to load your language file and your language is English, just dismiss it clicking at X at top right corner.
If you want translate to your language, please, contact me about that (Support page).
In this moment, we have English, Italian, Portuguese and Spanish language included.
To change your site language, go to (dashboard)  Settings => General => Site Language.
Since WordPress 4.0 the "WPLANG" constant is deprecated and should no longer be used, therefore removed from "wp-config.php" file.
 No limitations on Premium Version.

Just go to:

Follow this steps to Install and run Premium:
1) Download the plugin to your local computer:
https://wpmemory.com/wpmemory-101.zip
2) Deactivate and Delete the free plugin WP Memory installed on your server.
(Look for one free video from Youtube on how to install plugins from a zip file if necessary.)
3) After install the new one, copy and paste the Item Purchase Code* to Purchase Code Field
Paste here:
Dashboard => Tools => WP Memory => Premium
Item Purchase Code* : ?????? (look the email we sent you after buy also on your SPAM folder)
4) After that, go to the plugin Dashboard, Wizard Tab and follow the steps and instructions.
Dashboard => Tools => WP Memory
Visit our troubleshooting page.
Some Hosting company deny access to wp-config.php file or deny access to your phisical memory size. This can block our plugin to make changes. Request to your hosting company to enable the access to this file. Sometimes they, "to protect you", make changes at the file and destroy it. We always create a backup and send to email to you the link to restore it. We offer also the link to copy before to make the changes. Keep that window open and check if all it is ok from another window on your browser, then t is easy to you restore and undo the changes.
Should you have any questions that are beyond the scope of this help file, please you can submit a support ticket. (guest ticket available)
When creating a support ticket, try to explain as clearly as you can the issue you are having and what you were trying to do when the problem occurred.
don't forget to provide the link to your site, wp-admin and FTP credentials. 
Our support guys will get back to you as soon as possible.
The support center works Monday through Friday.
 Thanks a lot for using this plugin. Hope you found this documentation helpful. Please support this product by giving your ratings and testimonial.
With best wishes
Bill Minozzi
www.WPmemory.com